Do you love mysteries set in book groups as much as I do? If so, I have a reading list for you. Feel free to add your suggestions in the comments section.
Enjoy!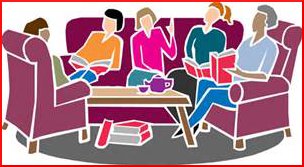 Series
Ellery Adams Book Retreat Mysteries
Erika Chase Ashton Corners Book Club Mysteries
Laura DiSilverio Readaholics series
Eva Gates Lighthouse Library Mysteries
R. Franklin James Hollis Morgan Mystery Series
Maggie King Hazel Rose Book Group series (self-promotion, I know!)
C.A. Larmer Agatha Christie Book Club series
Kylie Logan The League of Literary Ladies series
Marilyn Levinson Golden Age of Mystery Book Club series
D. R. Meredith Murder by the Yard Reading Circle series
Standalones
I stumbled across The Book Club Murder by Lawrence Friedman. The title and author are new to me but it sounds intriguing. See the Amazon description here.
Helen Hath No Fury by Gillian Roberts is a title in her Amanda Pepper series that features a book group. In an earlier post, I thanked Gillian Roberts for being one of my author mentors. See the post here.
TV Adaptations
In the Midsomer Murders episode, "Market for Murder," the leader of a book group is murdered and DCI Barnaby and Sgt. Troy hunt down the killer. The episode is based on characters created by Caroline Graham.
Not Just Mysteries
If murder isn't your style, Fictional Gatherings: Novels about Book Clubs, a list provided by the staff of West University Branch Library, offers suggestions for book groups with, and without, dead bodies.
The Jane Austen Book Club by Karen Joy Fowler (also a movie).
If you've enjoyed this post you might like mysteries set in book stores. Sometime this summer I'll come up with a list.
Readers, I'm sure I've missed some wonderful book group titles, especially if they're out of print or not part of a series. Please help fill in the gaps.
Save
Save
Save
Save
Save
Save
Save
Save
Save
Save
Save