In Murder at the Moonshine Inn, Hazel Rose recruits the Murder on Tour book group to help with a murder investigation. The group is well-connected in the community—there are two librarians, a business professional, and an active volunteer. And Hazel is a successful romance author.
Between them, the group members either know everyone they need to interview—or they know a friend of a friend … of a friend. They're pros at working their networks.
Without further ado, the cast of the Murder on Tour book group:
Hazel Rose
It's been eight years since Hazel's showdown with the killer in Murder at the Book Group. Back then, Hazel dabbled in writing a romance and committed herself to the uncommitted life. It's unfortunate that it took solving a murder for Hazel to get a grip on her life, but she went on to marry Vince Castelli and become a successful romance author. Life is good.
Then she walks into a local Panera restaurant and meets a woman who wants her to find out who killed her sister, one Roxanne Howard. Ms. Howard, a high-powered executive, was found in the parking lot of the Moonshine Inn, the victim of a stabbing.
Understandably, Hazel is dumbfounded. She considers her earlier adventure as an amateur detective (emphasis on amateur) a one-time thing and isn't eager for a repeat performance. She sees the woman's request as the perfect opportunity to say "no." She has long grappled with the elusive skill of saying no and is elated when she succeeds.
Does she stick by her decision? Apparently not. The main reason she caves is that Brad Jones, Rox Howard's husband, is Hazel's cousin and she feels she needs to help a family member. Never mind that Brad won't acknowledge her existence, he's still family.
Another reason for giving in is that the Murder on Tour book group agrees to help with the investigation. And Hazel is a very popular romance writer and people love to talk to her and give her any information she needs—this she uses to her advantage.
When Hazel goes undercover as a "redneck queen" at the Moonshine Inn, she gives a performance worthy of an Oscar.
Lucy Hooper
Meet Lucy Hooper, Hazel Rose's cousin and friend. Readers of Murder at the Book Group will remember that Lucy and Hazel lived together with Shammy and Daisy, resident felines. In the eight years since Hazel and Lucy faced down a desperate killer both have married, but are still close.
Lucy is still perfect. She's cool, calm, collected, manages a successful placement firm, and cooks up a storm. Her husband Dave is a lawyer by day and musician by night. They make a stunning couple.
I'm thinking of ways to create a flaw for Lucy and round her out as a character. Perhaps a flaw will be revealed in Hazel #3. What would be a good flaw? I'd love to hear ideas from readers.
Trudy Zimmerman
Trudy is a librarian who loves her job. As expected of a librarian, she has an impressive interest in, and knowledge of, books. If the Murder on Tour book group gave prizes for the best book summaries, she'd win hands down every time.
A large tattoo of a rose covers Trudy's neck. While working, she covers it with her long mane to hide it from her anti-tat library director.
Trudy's one marriage ended in divorce. A few years later, after a whirlwind romance, she and her fiancée planned to marry onboard a cruise through the Greek Islands. But the wedding never happened—the fiancée met a New Yorker on the ship and Trudy was history. She hasn't mentioned a love interest since. She's content with her job, her book group, and her pets.
Sarah Rubottom
Sarah Rubottom is a retired English teacher and active volunteer in the community. She's a conservative agnostic (she takes pains to emphasize that she's moderately conservative). Why did a Berkeley-educated, sixties-era hippie change her politics? At one point, the Murder on Tour group decided to steer clear of politics so they never found the reason for Sarah's about face.
Sarah does not approve of e-readers. Except for e-mail and a flip-phone she's pretty much a technological holdout. But when the book group decides to investigate the murder at the Moonshine Inn they share their status updates via Skype, and no one is more surprised when Sarah when she becomes a Skype fan.
Sarah's husband Den is a Vietnam paraplegic who loves women—all women. His attention to the opposite sex frequently ruffles his wife's feathers to the point that Hazel wonders why Sarah doesn't just leave her flirtatious husband at home.
How did I come up with the name Rubottom? See my 2014 post about how I named my characters in Murder at the Book Group.
Eileen Thompson
Eileen Thompson, another librarian, is Trudy Zimmerman's neighbor and co-worker. She tends to be brusque and impatient at times, but is generally likable and the group values her participation. Her mother lives at an assisted living facility and is always perilously close to being "evicted." Besides being a general nuisance with her screaming fits, the mother attacks the nurse aides with her cane. When not at the library, Eileen spends much of her time in meetings with the assisted living staff.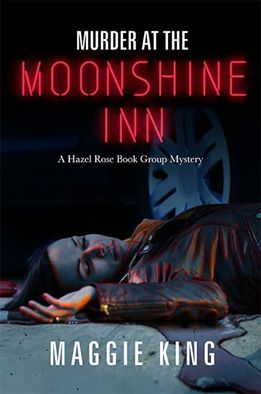 Murder at the Moonshine Inn comes out on November 15, 2016. Pre-order your print copy here and your Kindle copy here.
Read an excerpt of Murder at the Moonshine Inn.