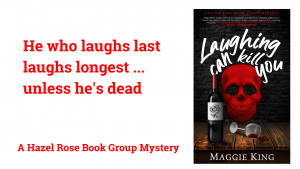 Welcome and thanks for visiting my site.
I grew up a classic middle child in a quirky New Jersey family. Anne Tyler mined quirky families to great literary success and I figure I have enough material to populate stories for years to come. Too bad I didn't get as early a start as Ms. Tyler.
My Hazel Rose Book Group Mysteries were conceived when I joined my first mystery book group. For years, I had devoured anything by Agatha Christie but there was a vast pool of other mystery authors out there and I was ready to take the plunge. The women in the group were lovely—almost too lovely. I hadn't yet started my writing career but I knew I was on my way when the what-if scenarios came to me unbidden: What if these women weren't really so nice? What if they harbored secrets, agendas, hatreds?
My short stories appear in various anthologies, including the Virginia is for Mysteries series, 50 Shades of Cabernet, Deadly Southern Charm, Murder by the Glass, and Death by Cupcake.
Readers often ask where I get my ideas. They come from everywhere—past experiences, media, friends, family, good old-fashioned eavesdropping—and my personal favorite: advice columns. I've been reading them since I was ten. They're all about conflict–and conflict drives a good story.
Drop me a line and be sure to join my mailing list.
– Maggie
Save
Save
Save
Save
Save
Save
Save
Save
Save
Save
Save
Save
Save
Save
Save
Save
Save
Save
Save
Save
Save
Save
Save
Save
Save
Save
Save
Save
Save
Save
Save