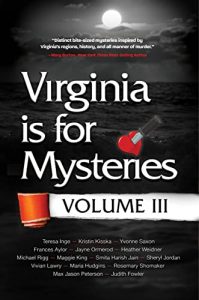 VIRGINIA IS FOR MYSTERIES VOLUME III
"The Last Laugh"
Emily Bates arrives at Julie Ruthers's home in Charlottesville, Virginia, expecting to enjoy a good meal and companionship with her new friend. Instead she walks into a crime scene and learns how too much betrayal can push one woman to exact revenge by unspeakable means. She also learns that the last laugh may not be the last laugh.
By the time Emily realizes how much danger she faces, it may be too late!

DEATH BY CUPCAKE
"Cupcakes and Emeralds"
The women of St. Ambrose's Episcopal Church gather in the fellowship hall for their weekly Bible study. Imagine their surprise at finding one of their members face down on the kitchen floor, hair plastered with blood and smashed cupcakes. A string of emeralds sparkle in the fluorescent light.
Church administrator Teresa Burkholder is rounding up suspects. She soon discovers that almost all the Bible study members had a motive. And many harbor secrets from the past they'd just as soon leave in the past.

MURDER BY THE GLASS: COCKTAIL MYSTERIES
"How Do You Mend a Broken Heart?"
A pricey fundraiser brings together Richmond, Virginia's elite. Enter two glamorous sisters, Kate and Becca, who are grieving the loss of their parents. What better way to mend their broken hearts than a hunt for rich husbands? It doesn't take long for Becca to choose the attractive, sexy—and rich!—Jeremy Redman as perfect husband material. She employs every one of the many feminine wiles in her arsenal to stake her claim on his heart.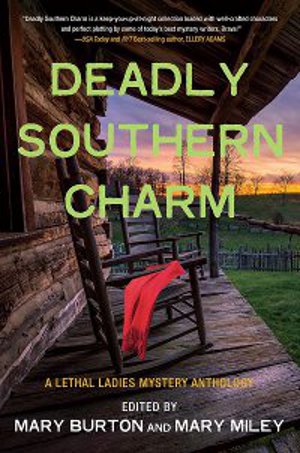 DEADLY SOUTHERN CHARM: A LETHAL LADIES MYSTERY ANTHOLOGY
"Keep Your Friends Close"
When Vicki Berenger is found murdered in her shower, the police laser-focus on her husband, Kenny. But Kat Berenger knows her brother didn't kill his wife—Kenny just isn't the killing kind.
Kat teams up with Vicki's best friend Meryl to find the real killer. Their search uncovers a tangle of secrets, scandals, betrayals. 
"Keep Your Friends Close" is set on a hot and steamy day in Richmond, Virginia's historic Fan District, home of Virginia Commonwealth University (VCU).
Buy now on Barnes & Noble, Kobo, iBooks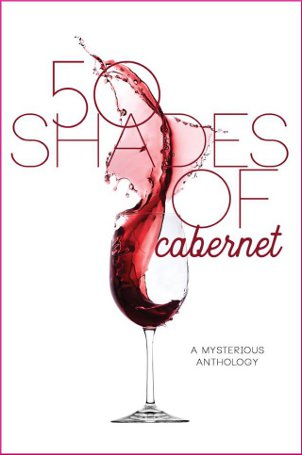 50 SHADES OF CABERNET
"Wine, Women, and Wrong"

Tommy Bradshaw has two items on his bucket list: to solve a murder mystery and to marry Camille Pettit. Fat chance of either happening. Then, when Camille attends a wine-tasting fundraiser and the wine merchant is found in the parking lot, impaled by a hunting knife, Tommy gets his chance to play one of the Hardy Boys. In the process of finding the stabber, Tommy is besieged by women: the glamorous and sexy oenophile who's hell-bent on seducing him; and the cop who would love to woo him away from Camille. In addition, Tommy finds that detecting isn't as easy as it is in books.
Read "Wine, Women, and Wrong" here.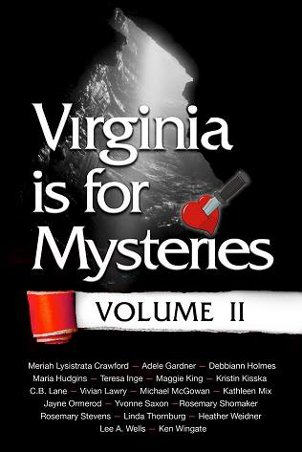 VIRGINIA IS FOR MYSTERIES VOLUME II
"Reunion in Shockoe Slip"
One cold and blustery January day bestselling mystery author Nancy McGregor and Internet security expert Roger Rucker meet by chance in Richmond, Virginia's historic Shockoe Slip. Thirty years before they were lovers in sunny Southern California. Their reunion sets off a series of memories and events that change their lives forever.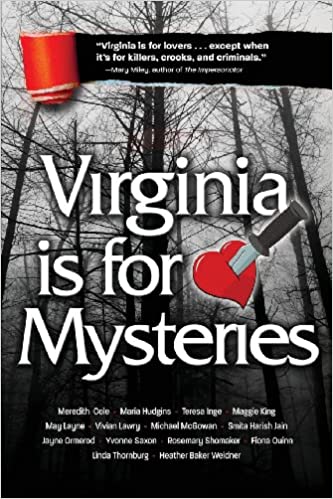 VIRGINIA IS FOR MYSTERIES
"A Not So Genteel Murder"

A birthday party at Richmond's historic Kent-Valentine House sets the scene for this tale of betrayal, loss, and the power of family ties.
Sharon Taylor groans when she receives the invitation to Deb Carnachan's party at the Kent-Valentine House. She'd rather stay home and watch old movies with her Westies. After two years, Sharon is still reeling from the deaths of her husband and daughter. But she and Deb are friends from way back and so she drags herself to the big do.
When Olivia Thompson's husband leaves her for a younger woman she's desperate to snag hubby #2. She invites Sherwood Aimsley to the party and is outraged when he shows up with a statuesque beauty on his arm.
Sharon and Olivia keep each other company while their happier friends whoop it up and spread cheer. Until truth and illusion collide … and the evening ends in tragedy.
Buy now on Barnes & Noble, Kobo, Apple, and more
Save
Save
Save
Save
Save
Save
Save