I'm thrilled to welcome award-winning author Phyllis Entis to the blog. Phyllis introduces The Silver Star Caper (isn't that a great title?), the latest in her Damien Dickens Mystery series. Bonus: a peek at the prologue!
Take it away, Phyllis!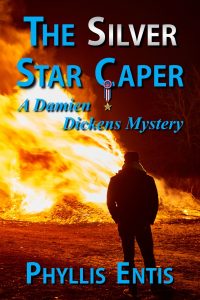 Writing fiction is a very intense experience, at least for me. Once a story starts to develop inside my brain, I feel as though I am simply a reporter, taking dictation from the main characters.
In December 2019, I bade a temporary farewell to Damien and Millie Dickens and shooed them out of my head while undertaking a non-fiction project.
The dynamic detective duo started clamoring to return late last fall, and have been with me ever since.
The first draft of The Silver Star Caper wrote itself in only four months—an extremely fast pace for me. There were nights when Damien and Millie entered my dreams, and days when the emotional content of the plot was so overwhelming that I had to stop and open a fresh box of tissues. At times, I was afraid of shorting out my keyboard!
Although set in the mid-1980s, The Silver Star Caper embraces themes that are relevant today: racism, domestic terrorists, white supremacy militias, and neo-Nazi movements. Although fiction, the story is grounded in history.
I'll be sharing pieces of that history from time to time on my blog. I hope you'll drop by and read the stories behind the story.
Blurb for The Silver Star Caper
Damien and Millie take on their most dangerous assignment yet.
After a string of arson fires drives migrant farm workers from their homes and threatens Millie's daughter-in-law, Damien agrees to go undercover to infiltrate the white-supremacist, neo-Nazi militia responsible for the fires and unmask the identity of their leader.
Millie covers his absence by spreading the news that they have separated, while he travels back to Atlantic City. When Damien reappears in California, it's in the guise of a former cop with neo-Nazi sympathies.
Left alone to run their detective agency while maintaining a brave front, Millie dives into an investigation of a friend of the new mayor of Carmel-by-the Sea, a local resident she suspects of being a Nazi war criminal in hiding.
The action is non-stop as Damien and Millie risk their lives to eradicate the spectre of violence and racism from their community.
Prologue
Thursday, March 20, 1986
We were seated on the patio of the Hog's Breath Inn, the downtown Carmel restaurant owned by Clint Eastwood. The place was packed with a lunchtime mix of tourists and locals, most of them talking about the upcoming municipal elections and the likelihood that Clint would be the town's next mayor. Out of the corner of my eye, I caught a couple of friendly waves, but I ignored them, focusing my attention instead on Millie, who was slowly crumbling a sourdough roll into pieces small enough to feed to the birds.
The last few weeks had been hard on her as we engaged in an ever-rising tide of public displays of discord. Our friends had started asking what was wrong. Had wondered out loud whether our marriage was on the rocks. Today, they would have their answer.
This morning, it was Millie's turn to pick the fight. She did so in my office, her accusations about my excessive drinking loud enough to carry through the walls to the dental offices next door. I followed through by giving my wastebasket a noisy kick, sending its contents flying, and punctuated my angry retorts by slamming my fist into the wall so hard that the plaster cracked. Millie retreated into her own office, slamming the door with such force that Hershey, our 60-pound labradoodle, took shelter under the reception counter.
A few seconds later, she emerged from her office, a grim smile on her face. "That should about do it, especially since Malvina was scheduled for a dental check-up this morning. Let's go to lunch and get this over with."
Amazon Buy link: mybook.to/TSSC
Amazon Buy link for Damien Dickens Mystery series: mybook.to/DDMSERIES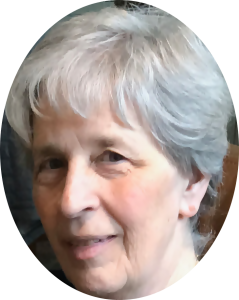 Phyllis Entis is the author of the Damien Dickens Mysteries series, which includes The Green Pearl Caper, The White Russian Caper, The Chocolate Labradoodle Caper, The Gold Dragon Caper, The Blue Moon Caper, and The Silver Star Caper. She was the recipient of the 2019 Top Female Author award (Mystery/Suspense/Thriller).
Phyllis is a free-lance writer and retired food safety microbiologist with degrees from McGill University and the University of Toronto. In December 2020, she released TAINTED: From Farm Gate to Dinner Plate, Fifty Years of Food Safety Failures, an exposé of the shortcomings of the food manufacturing and foodservice industry sectors on which we all rely to supply us with safe food.
Phyllis lives in Victoria, British Columbia, Canada with her husband and their Australian Cobberdog, Shalom. When she's not writing, Phyllis usually can be found walking around town, baking bagels and pastries, or enjoying her garden.
For more on Phyllis and the Damien Dickens Mysteries:
Website and blog: phyllisentis.wordpress.com
Twitter: www.twitter.com/PromptProse
Facebook Page: www.facebook.com/DamienDickensMysteries/
Facebook Page: www.facebook.com/PhyllisEntis
LinkedIn: www.linkedin.com/in/phyllis-entis-1697a849/
Amazon: www.amazon.com/Phyllis-Entis/e/B001JRZM1K
Goodreads: www.goodreads.com/author/show/1750852.Phyllis_Entis
BookBub: https://www.bookbub.com/authors/phyllis-entis