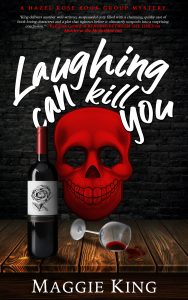 He who laughs last, laughs longest.
Unless he's dead.
When romance author Hazel Rose is dropped by her publisher, she sees herself heading down a path strewn with has-been authors. While disappointed, Hazel won't give up without a fight—she signs up for a mystery-writing class, thinking that crime fiction will jumpstart her career.
But what's a mystery-writing class without a mystery? So when Randy Zimmerman, an obnoxious classmate given to laughing at others' expense, is murdered, Hazel tackles the case. Solving a real-life murder will surely lend authenticity to her creative writing.
She recruits her book group pals to help with the investigation. Trouble is, there are more suspects than they bargained for—even Hazel herself, who endured Randy's thumbs-way-down review of her writing, had a motive.
A second body drives the stakes higher, and Hazel doubles her efforts to find who's behind the murders, unearthing secrets that a killer would go to any lengths to keep hidden.
Will Hazel succeed? Or will this be "The End" for her?
Praise for Laughing Can Kill You
Readers don't need to be familiar with King's prior books to enjoy this one, but they'll no doubt want to after reading this well-crafted, suspenseful whodunit augmented with a strong supporting, small-town ensemble cast and a ratcheting plot rife with shifty motives and red herrings. Kathleen Gerard, Reading Between the Lines
Read full review here
I loved this story because the opening scene hooked me from the first word.  Amazon reviewer
I loved it…clever, intriguing, and satisfying karma! Kathleen Costa for Kings River Life Magazine
Read full review here
Laughing Can Kill You captures all the cozy mystery elements from a likable amateur sleuth and an unlikable murder victim to an inviting setting. TheRedHeadNotes.com
Read full review here
Suspects abound in this clever whodunit … but who's going to have the last laugh? Amy M. Reade, USA Today bestselling author
The story is well written and moves at a good pace to a satisfying climax. All in all, this is a thoroughly enjoyable cozy mystery in the best tradition of Agatha Christie. Phyllis Entis, author of the Damien Dickens Mysteries
Disastrous confrontation at a book signing. Nasty writer. Murder. Hazel Rose investigates once again. Very satisfying read with an unexpected ending. Betsy Ashton, mystery and suspense writer
Buy now on Barnes & Noble, Kobo, Apple, Smashwords, and more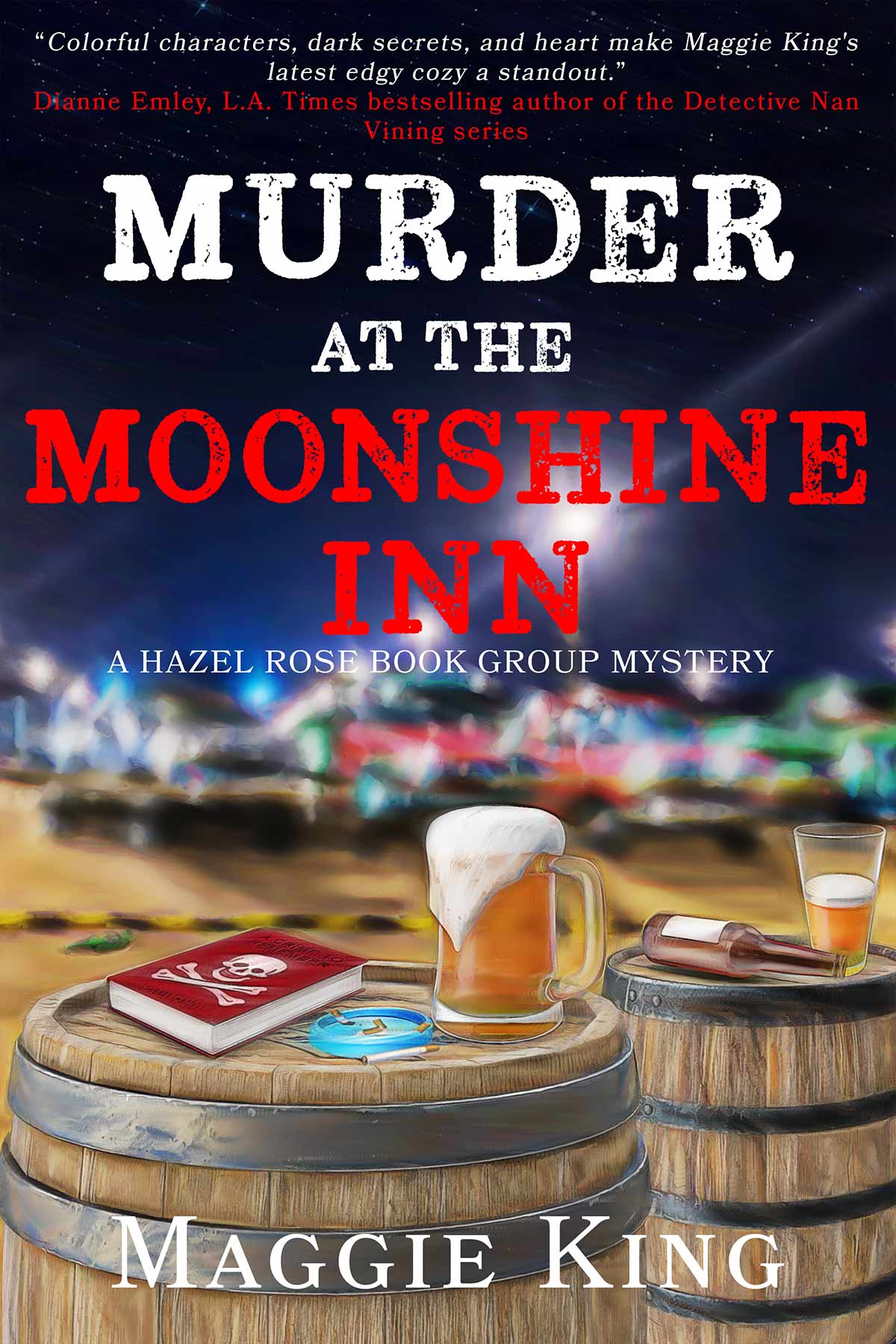 Murder at the Moonshine Inn. When high-powered executive Roxanne Howard dies in a pool of blood outside the Moonshine Inn, Richmond, Virginia's premiere redneck bar, the victim's sister enlists Hazel Rose to ferret out the killer. At first Hazel balks—she's a romance writer, not a detective. But Brad Jones, Rox's husband, is the prime suspect. He's also Hazel's cousin, and Hazel believes in doing anything to help family. Never mind that Brad won't give her the time of day—he's still family.
Hazel recruits her book group members to help with the investigation. It's not long before they discover any number of people who feel that a world without Rox was just fine with them: Brad's son believes his mother died at the hands of Rox and Brad; Rox's former young lover holds Rox responsible for multiple tragedies in his family; and one of Rox's employees filed a wrongful termination lawsuit against her. The killer could be an angry regular from the Moonshine Inn—or just about anyone who ever crossed paths with the willful and manipulative Rox.
When a second murder ups the ante Hazel must find out who is behind the killings. And fast. Or she may be victim #3.
Praise for Murder at the Moonshine Inn
Colorful characters, dark secrets, and heart make Maggie King's latest edgy cozy a standout. You'll be clamoring to join Hazel Rose's book group. Dianne Emley, L.A. Times bestselling author of the Detective Nan Vining series
Good writing, interesting twists and side stories. Well done. Linda Thorne, author of Just Another Termination
In Murder at the Moonshine Inn, Maggie King distills book clubs, author deadlines, and undercover ops at a redneck bar into a cocktail of pure delight. Diane Vallere, National Bestselling author of the Madison Night Mystery Series
A brilliant, twisty mystery with fun and memorable characters. King is a writer to watch! LynDee Walker, Agatha Award-Nominated author of Lethal Lifestyles
This is the second Maggie King novel that I have read and I am looking forward to the next one! Sharon Aguanno, Goodreads
A good mystery teamed with humor and characters you won't forget make this a read that goes down smooth as a mint julep-with a kick! Sunny Frazier, author of the Christy Bristol Astrology Mysteries
Buy now on Barnes & Noble, Kobo, Apple, Smashwords, and more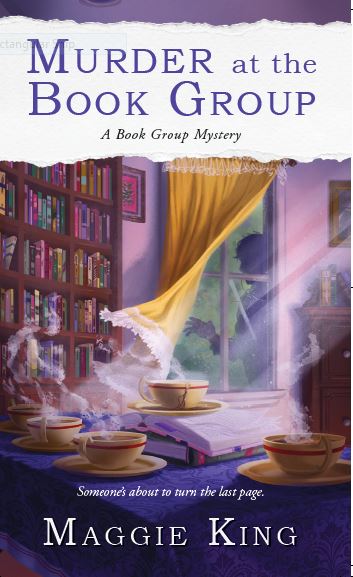 Murder at the Book Group. Nothing can kill a good book group discussion like cold-blooded murder. Especially when the victim is one of the group's own. Cyanide is the topic du jour for the mystery fanatics of Murder on Tour, but for their poor hostess, Car­lene Arness—who just published her own whodunit—it makes for a surprise ending. One minute, Carlene is speaking animatedly about featuring the poison in her new book. The next, she's slumped over in a chair, dead from a sip of tea. Did the writer take her research too far? Or did one of the group's members take a love of true crime to the extreme?
Founding member Hazel Rose is rounding up suspects. Any of her fellow bibliophiles could be the killer. And she soon discovers that almost all of them had a motive. Even Hazel herself, whose ex-husband married Carlene, could be accused of harboring jealousy. The truth is, Carlene wasn't just hard to read, she was also hard to like—and the scandalous secrets Hazel unearths would make Carlene's idol, Agatha Christie, turn over in her grave.
Praise for Murder at the Book Group
… The amateur sleuth's pseudo-investigative skills and her interactions with a cast of well-drawn, small-town characters reveal a deception that ultimately coalesces into a study of human nature and the limits of perception.
Kathleen Gerard, blogger at Reading Between the Lines
Read full review here 

Murder on Tour, a Richmond, VA book group that focuses each meeting on mysteries that share a geographic setting, provides the milieu for King's entertaining debut. Readers will find more substance here than in most cozies. Publishers Weekly
Read full review here 
The characters in this story are fascinating, and for the side of humor that the author delivers, there is definitely a dark side to go along with it. Mary Lignor, Suspense Magazine
Buy now on Barnes & Noble, Kobo, Apple, and more
Save
Save
Save
Save
Save
Save
Save
Save
Save
Save
Save
Save
Save