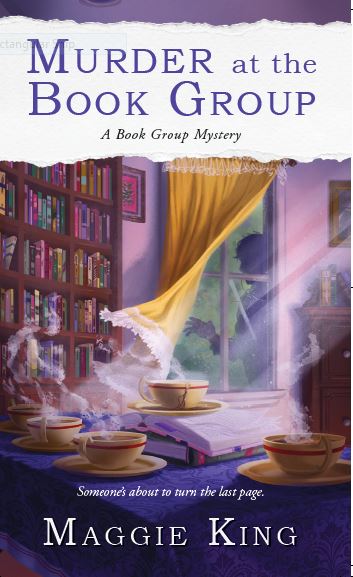 Nothing can kill a good book group discussion like cold-blooded murder. Especially when the victim is one of the group's own. Cyanide is the topic du jour for the mystery fanatics of Murder on Tour, but for their poor hostess, Car­lene Arness—who just published her own whodunit—it makes for a surprise ending. One minute, Carlene is speaking animatedly about featuring the poison in her new book. The next, she's slumped over in a chair, dead from a sip of tea. Did the writer take her research too far? Or did one of the group's members take a love of true crime to the extreme?
Founding member Hazel Rose is rounding up suspects. Any of her fellow bibliophiles could be the killer. And she soon discovers that almost all of them had a motive. Even Hazel herself, whose ex-husband married Carlene, could be accused of harboring jealousy. The truth is, Carlene wasn't just hard to read, she was also hard to like—and the scandalous secrets Hazel unearths would make Carlene's idol, Agatha Christie, turn over in her grave.
You can purchase Murder at the Book Group at brick-and-mortar stores everywhere like the Fountain Bookstore 

or from these fine online booksellers:
Virginia Is for Mysteries is a collection of short stories set in and around
the Commonwealth of Virginia. All stories are written by Virginia residents with murder in mind. Each author is a member of Sisters in Crime, either the Central Virginia chapter or the Mystery by the Sea (Chesapeake) chapter. Virginia Is for Mysteries can be compared to Chesapeake Crimes, Fish Tales, Fish Nets, or Best New England Crime Stories.
Contributing authors are Meredith Cole, Maria Hudgins, Teresa Inge, Maggie King, May Layne, Vivian Lawry, Michael McGowan, Smita Harish Jain, Jayne Ormerod, Yvonne Saxon, Rosemary Shomaker, Fiona Quinn, Linda Thornburg, and Heather Baker Weidner.
Virginia is for Mysteries II is in the works!
Here is a synopsis of my story, "A Not So Genteel Murder":
A birthday party at Richmond's historic Kent-Valentine House sets the scene for this tale of betrayal, loss, and the power of family ties.
Sharon Taylor groans when she receives the invitation to Deb Carnachan's party at the Kent-Valentine House. She'd rather stay home and watch old movies with her Westies. After two years, Sharon is still reeling from the deaths of her husband and daughter. But she and Deb are friends from way back and so she drags herself to the big do.
When Olivia Thompson's husband leaves her for a younger woman she's desperate to snag hubby #2. She invites Sherwood Aimsley to the party and is outraged when he shows up with a statuesque beauty on his arm.
Sharon and Olivia keep each other company while their happier friends whoop it up and spread cheer. Until truth and illusion collide … and the evening ends in tragedy.
Order Virginia is for Mysteries from these fine booksellers:  IndieBound  •  BAM!  •  Barnes&Noble  •  Amazon
Virginia is for Mysteries web site
Virginia is for Mysteries Facebook page
Virginia is for More Mysteries comes out February, 2016 from Koehler Books. I contributed "Reunion in Shockoe Slip." Here is a synopsis:
One day bestselling author Nancy McGregor and Internet security expert Roger Rucker meet by chance in Richmond, Virginia's historic Shockoe Slip. Thirty years before they were lovers in sunny Southern California. Their reunion sets off a series of memories and events that change their lives forever.