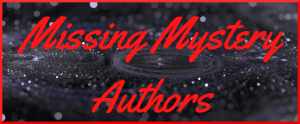 It's been a while, but the "Missing Mystery Authors" series is back! I created this series for readers who want to know what happened to their favorite mystery authors who, for whatever reason, haven't published in a while.
Some authors are easy to find, while some are not. Fortunately, many still maintain websites and are active on social media so I can contact them. Often life circumstances put her or his writing on hold. Some are making a comeback with a new series. Sadly, some have left us for the great beyond. Others have seemingly vanished.
Read on for the latest!
Connie Archer, author of the Soup Lover's mysteries. As Connie di Marco, she writes the Zodiac Mysteries.
I emailed the author. Here is her response:
Life's been a little crazy lately, I've become a grandmother twice this year, once in May and again in August.  That's taken up a lot of free time. So sorry, I've been listed as missing.  LOL!  It took quite a while to get my rights to the Zodiac Mysteries from my now defunct publisher.  My new publisher (Suspense) has re-released the first three books with amazing covers. Very soon, the next book out, I think within a month or so, is a novella that's set before the series begins.  Readers wrote to me asking how Julia first became interested in astrology, how she found her cat, and wanted to read more about Gloria, Julia's grandmother. Enter a Wizard, Stage Left, answers all those questions.  It's set at a theater production of Agatha Christie's Appointment with Death and it's a bit of a nod to Golden Age classics.  After that, #4, Serpent's Doom, will be out and I'm just finishing up #5.  
The promised prequel novella is here! October 26, 2021 is release day for the latest in Connie's Zodiac Mysteries series, ENTER A WIZARD, STAGE LEFT.
More on Connie here.
Conor Fitzgerald, author of the Alec Blume series, set in Rome.
Conor is on Twitter (@fitzfromdublin). He hasn't responded to my request regarding his writing status. He publishes a newsletter, focusing on Irish politics. Subscribe to it here  (you can read it before subscribing).
Ann Purser, Author of the Ivy Beasley Mysteries, Lois Meade Mysteries, and Round Ringford Village Stories
Ms. Purser has a Facebook page with no recent updates. Many of her readers posted touching messages, wanting more stories. I sent her a message, but haven't heard back. Anyone interested in her status can LIKE her page and inquire. You never know.
Linda Barnes, author of the Carlotta Carlyle series and the Michael Spraggue series.
According to her website, Linda Barnes has discontinued the Spraggue series. I emailed her, asking about the Carlotta series. She hasn't responded, but did say she could take a while.
Updates from previous posts
Earlene Fowler, author of the Benni Harper quilting mysteries
Earlene Fowler wrote a statement on her website, explaining her decision to discontinue her series: "I stepped away from the industry when social media started taking over.  It was something I did not feel comfortable participating in.  And, honestly, it just felt like time to leave."
Read her entire statement.
RIP
I recently learned that Carole Nelson Douglas, best known for the Irene Adler Sherlockian suspense novels and the Midnight Louie mystery series. passed away in October, 2021.
A few years back, Judith Van Gieson appeared in a Missing Authors post. Judith, author of the Claire Reynier and Neil Hamel series set in New Mexico, and later owner of ABQ Press in Albuquerque, died early in 2021.
Read about Judith on my Missing Authors post.
Read Judith's obit.
Posts from my "Missing Authors" series, in chronological order:
"Discovering a Lost Author: John J. Lamb"
"Whatever Happened to Gabrielle Kraft?"
"Whatever Happened to (Name an Author)?"
"In Memory of My Favorite Mystery Authors (And Maybe Yours)"
"Those Missing Authors: An Update"
Do you have a favorite author who hasn't written in some time and isn't included in one of the above posts? Yes? Include the name(s) in the comments section and I'll see what I can find out. It may take me some time but I will get back to you, either personally or in an upcoming blog post.