by M. Louisa Locke
Novellas and short stories are gaining in popularity, both with writers and readers. This is true not only for me, but for writers like M. Louisa Locke, my guest today. Start reading to learn why she has come to love the shorter form.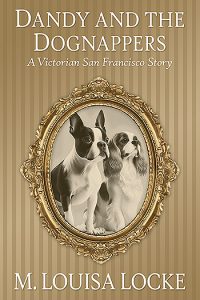 When I started writing and publishing my Victorian San Francisco Mystery series in 2009, I never expected that now, thirteen years later, I would have written eight full-length novels in the series. However, I really, really didn't expect that I would have written an additional thirteen books in the format of short stories or novellas. That's because, in general, I am not someone who is ever succinct about anything: not when talking, writing emails or posts, and certainly not when writing fiction (my full-length novels range from 110,000 to 140,000 words.)
Today, I am going to explore why I have taken to these shorter forms, both as a reader and a writer, and also why I have found myself increasingly more comfortable with the novella length.
Before I started publishing my Victorian San Francisco Mystery series, I didn't read short stories, except for an occasional story in the New Yorker. What changed my reading habits was the arrival of ebooks. Previously, most people, myself included, read their fiction in print, and the main place you could find shorter fiction was in magazines. Occasionally, a traditional publisher would put out an anthology of "best of" short stories that had previously appeared in magazines or put together a collection of stories by a well-known author. A single short story or even a novella was generally seen as inappropriate for print by traditional publishers because they assumed-perhaps rightly-that the resulting book would be too thin and the price too high to be attractive to a readers. The exception, of course, was literature for children and young adults.
The rise of the digital age has changed all that. As people began to consume fiction on their ereaders, tablets, and phones, often when commuting or waiting in lines, a shorter work of fiction became a plus. This was certainly true for me. I am terrible at putting a book down once I have started it, letting it get in the way of work or chores, or keeping me up too late. So, I am more likely now to open up a short story in my Kindle when I know I don't have a lot of time.
In addition, I am more willing to give an unknown author a try if the cost in terms of money and time is lower. On the other hand, I am also delighted to see a shorter work by a favorite author in a series I love, often because it helps tide me over until their next full-length book comes out.
Getting people to try my work and tide them over between one novel and the next were the primary reasons I wrote my first short story, Dandy Detects. Maids of Misfortune, the first book in my historical mystery series, came out at the end of 2009, but it was taking a long time to write the second book, Uneasy Spirits, which became one of my longest novels and wasn't published until fall of 2011—almost two years after the first. Consequently, I wanted to get something out in this new series, reminding people that it even was a series.
I was also following the advice given by one of the early self-published authors who suggested publishing a short story would encourage people to try the work of an unknown author such as myself. This advice was spot on! After a two-day free promotion of Dandy Detects in one of the very first promotional newsletters around, the sell-through to Maids of Misfortune went on to push this novel up to the top of the historical mystery best-seller list, and both the short story and the longer novel sold steadily over the next year.
However, it wasn't the "loss-leader" aspect of short stories that kept me writing them. Instead, I had discovered how much fun it was to write a story where I could expand on the growing number of minor characters in the series, and I learned through the reviews how much fans of the series also seemed to enjoy these chances to get to know these minor characters better.
As a reader, one of the reasons I have always enjoyed mystery series, for example Louise Penny's series set in Three Pines, is the continuing cast of characters that are introduced along the way. Whether these characters are family members, neighbors, co-workers, or local officials, they make the stories richer as they introduce humor, conflict, and even romance into the basic mystery plot.
Yet, as an author, I discovered that minor characters can slow down the plot too much if I give them free reign. It's difficult to balance writing a tightly plotted mystery, with well-developed main characters, within a rich historical setting. This means I really can't afford to develop my minor characters as much as I want to within the novels, particularly since there are so many of them! My main protagonists, Annie and her husband Nate, run the O'Farrell Street boardinghouse, which currently has three servants and nine boarders. And these twelve minor characters also have family and friends who often appear as minor characters in the longer novels.
My solution was to give some of these characters their own published short stories.
For example, in Maids of Misfortune, I had created two elderly dressmakers who lived in the boardinghouse. One of these sisters talked all the time, the other never said a word. And that was about all a reader learned of them in that first book. But I had developed a whole history for them and I wanted my readers to learn that backstory. So, in my second short story, The Misses Moffet Mend a Marriage, I gave them a minor mystery to solve that helped reveal a good deal about their past as well as their current occupation.
In addition, the shorter formats permit me to explore historical themes in more detail. In the second short story I wrote for the series, Mr. Wong Rights a Wrong, I addressed the anti-Chinese movement in the city. In my most recent short story, Mrs. O'Malley's Midnight Mystery, I was able to illustrate the difficulties a poor widowed woman in 1880s San Francisco would have faced, raising multiple children in a crowded two-room apartment, and still be able to offer the reader a mystery. In one of the novels, where that mystery wasn't part of the plot, the scenes in the small crowded flat would have simply distracted the reader or been seen as some kind of dumping of information.
This desire to expand upon minor characters and provide good historical detail has also been behind my five novellas, like Kathleen Catches a Killer and Mrs. Stein Solves a Crime—since each started as a short story that grew to long for that designation.
That is what happened to my most recent "short story," Dandy and the Dognappers, which morphed pretty quickly into a novella as I tried to give three minor characters (and the dog Dandy) center state. The three children who live in the boardinghouse, Jamie Hewitt, Emmaline Fournier, and Ian Hennessey, by virtue of their ages, have been difficult to integrate in any meaningful fashion into the longer novels. The same goes for the Boston Terrier, Dandy. Spending any time with them would have simply distracted from what the adults were doing to solve the on-going mysteries.
However, by giving these characters a novella all for themselves, I was able to build on their appearances in other shorter works, and I was also able to use historical detail from the local San Francisco newspapers and create a sense of tension over the question of who might be stealing dogs in San Francisco. I just couldn't do all of this effectively in a short story!
Consequently, I think I have finally thrown up my hands and admitted that the length of a novella (between 17,000 and 40,000 words) is perfect for me when I am writing in a shorter format. Thankfully, fans of the series seem to get as much enjoyment out of reading about these characters as I do in writing about them and are willing to pay the slightly higher price for a novella where they get to solve a mystery. This permits me to write my long novels, which take time, and write stories to keep fans happy in the interim, while spending some quality time with minor characters I have come to love.­
Purchase Dandy and the Dognappers here.
M. Louisa Locke, a retired professor of U.S. and Women's History, is the author of the USA Today best-selling Victorian San Francisco Mystery series. This series features Annie, a young boardinghouse keeper, and Nate Dawson, a local San Francisco lawyer, as they investigate crimes with the help of their friends and family. Locke also helped create and writes in the Paradisi Chronicles, an multi-author science fiction series. She currently lives in San Diego, California with her husband and an energetic rescue dog.
Learn more about M. Louisa Locke at the following:
The Victorian San Francisco Mystery Series
Paradisi Chronicles Science Fiction Series
Subscribe to M. Louisa Locke's newsletter to get notifications of new publications and promotions and learn how to get a free copy of her short story collection. Your email will never be shared.
Do you read short stories and novellas? Share your thoughts in the comments.