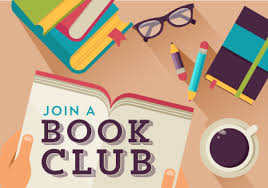 There are thousands of book clubs in the United States alone and the majority read the same title each month and gather to discuss it. But there is another option: the theme group. In such a group, the members pick a theme, read a book of their choice based on the theme, and meet to talk about what they read. This format allows more flexibility of choice and all but eliminates the "I Hated That Book" syndrome that plagues many groups. See my recent post on this subject here.
If your group favors in-depth book discussions, the theme approach may not be for you. However, you may consider trying it on occasion, like during the holiday season or the summer. Sometimes the theme itself will kick off a spirited dialog. Whatever you decide, the main objective is to read and share your love of books.
In the Murder on Tour group featured in Murder at the Book Group, the members read mysteries set in geographical locations. In the opening chapter, the group talks about the books they read with Florida settings. Titles include The Paperboy by Pete Dexter, Key Largo by Raymond Chandler, and The Deep Blue Good-By by John MacDonald. In the second Hazel Rose mystery (as yet untitled) the group travels back in time to the ancient world via Silver Pigs by Lindsay Davis and Germanicus Mosaic by Rosemary Rowe. Martin Lorin's Genesis One: Abel is Missing sparks an animated back and forth on the age-old question: why did Cain kill Abel?
Why did I choose a theme group for Murder at the Book Group? In 1993 I went to my first mystery book group in Santa Clarita, California. My instructions were to read a mystery set in New York City and I chose one from Ed McBain's 87th Precinct series. That first night launched my love of mysteries and eventually lead me to writing my own. Themes included main characters with professions in journalism, business, law enforcement, and academia. We chose stories set in specific regions, small towns, large cities, you name it. The members not only discussed the books they'd read for that month, but they recommended others as well. I left each meeting with a lengthy TBR list. I attended that group for three years until I relocated to Virginia. While I modeled the Murder on Tour group after the Santa Clarita one, it bears no resemblance—the members of the original group were much more pleasant than the ones in my fictional one and, most important, no one was murdered!
Lelia Taylor, blogger at Buried Under Books: Tales of a Former Indie Bookseller and former owner of Creatures 'n Crooks Books & Sundries has this to say about the evolution of her theme group:
This book club has been together for about fifteen years and we still have most of the original members. We've never read just one pre-selected book but, in the past, we tried picking an author for each month and then we all read whatever we wanted by that author. Eventually we decided to just discuss any mysteries we had read in the previous month (we had to learn to discuss each one briefly but enough to whet each other's appetites). Both systems worked but were not quite right for us.
In 2008 we came up with the idea of themes and we're still doing that today. We have a list of about seventy five themes and we have no trouble satisfying the reading tastes of all members, from super cozy to seriously grim. As an example, a recent theme was "Books to Movies and Movies to Books" which also included TV or any other kind of screen treatment. As you can imagine, that encompassed countless possibilities from Agatha Christie to Henning Mankell to Ann Rule.
Lelia's suggestions for themes
Fictional Characters: Mr. and Mrs. Darcy series by Carrie Bebris: Sherlock Holmes in the Irene Adler series by Carole Nelson Douglas; the Nursery Crimes series by Jasper Fforde
Golden Age: Agatha Christie, Ellery Queen, Dorothy L. Sayers, Rex Stout, Josephine Tey, etc.
Scientific Occupations: Alan Bradley (aspiring chemist Flavia de Luce); Randy Wayne White (marine biologist Doc Ford); Sarah Andrews (forensic geologist Em Hansen); and Mary Anna Evans (archaeologist Faye Longchamp)
GLBT: Ellen Hart (restaurateur  Jane Lawless); Val McDermid (journalist / socialist Lindsay Gordon); and Josh Lanyon (mystery writer / bookseller Adrien English)
Selected resources for finding themes
Stop, You're Killing Me! this online database includes indexes for locations, jobs, diversity, and historical periods
Goodreads the social media cataloging site for readers has its own theme group
Cozy Mysteries by Theme you're sure to find something here that will interest your group
By a Woman's Hand: A Guide to Mystery Fiction by Women by Jean Swanson and Dean James): this is a favorite resource of mine. It hasn't been updated since its publication in 1996 but many of the authors listed are still writing.
Or go the traditional route: ask your local librarian!
Ready to try a theme group? Let me know what you think of the format. Happy reading!