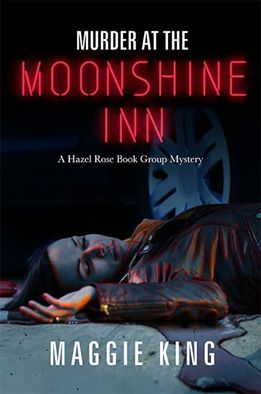 Murder at the Moonshine Inn debuts next Tuesday, November 15, and my blog tour is well underway.
It kicked off on November 2 when Grace Topping interviewed me on on Writers Who Kill. Over the next month and a half I will guest post on such weighty topics as "What inspired me to write Murder at the Moonshine Inn?" "Where Do I Get My Mysterious Ideas?" "A Day in the Life of Hazel Rose," and lots more.
I hope you visit often and leave comments. Look for my giveaways! And a big thanks to my generous hosts.
Here's the tour:
November 2, 2016
Interview with Grace Topping on Writers Who Kill
November 7, 2016
"Book Groups to Die For" Janet Rudolph's Mystery Fanfare
November 10, 2016
"What on earth inspired me to write Murder at the Moonshine Inn?" Marilyn's Musings
November 13, 2016
"Lunchtime Tours of Historic Downtown Richmond, Virginia" 50 Authors from 50 States
November 15, 2016
Author Spotlight on Amy Reade's Reade and Write
November 16, 2016
"Boosting Your Creativity: A Cautionary Tale" Buried under Books
November 17, 2016
Cyrus Webb Radio Interview Breakfast with Books

November 18, 2016
Interview with Anastasia Pollack on Killer Crafts & Crafty Killers
November 20, 2016
"Where Do I Get My Mysterious Ideas?" Evelyn Cullet's blog
November 21, 2016
"A Detecting Book Group" Debra Goldstein's blog
November 22, 2016
"A Day in the Life of Hazel Rose" Dru's Book Musings
November 26, 2016
"Move Over One for Two" D.J. Adamson's L'Artiste
November 28, 2016
Character Interview for Hazel Rose Island Confidential
November 30, 2016
Author Interview: Annette Drake's Blog

December 1, 2016
"Writing What You Don't Know" Storeybook Reviews
December 2, 2016
"Ten Things You Need to Know about Hazel Rose" Joanne Guidoccio's blog
December 3, 2016
"Why Do I Write Mysteries?" Ladies of Mystery
December 4, 2016
Mystery Author of the Month Interview with author Pat Gligor
December 5, 2016
Author Interview: The Pulp and Mystery Shelf
December 12, 2016
"What's Next for Hazel Rose and Her Book Group?" Snowdrop Dreams
December 19, 2016
"How Much Grit Do I Want in My Mystery?" Make Mine Mystery
Save