The "Missing Author" series continues to be a hit. Thank you, readers! Thanks also for the updates you sent and for asking what happened to your own favorite mystery authors who, for whatever reason, are no longer publishing.
Sometimes I'm lucky enough to make contact with a missing author and find that life circumstances derailed her writing. Some are making a comeback with a new series. Sadly, a few have passed away. For some, I'm unable to find any information, and hope that my loyal blog readers can help. As a bonus, I've added some great new-to-me books to my TBR list.
Read on for the latest updates.
Madelyn Alt, author of the Bewitching Mysteries
It seems like everyone wants to know about Madelyn. All I could find on her was her Facebook page which includes several inquiries from her fans. They want to know what happened to her and when she plans to publish again. She hasn't responded to these inquiries. I sent her a friend request back in January but she hasn't accepted. I saw on a Yahoo board that she truly "vanished" in 2012.
According to this 2015 post from Cozy Mystery Book Reviews, Madelyn did discontinue her series. On the post you'll find links to her Facebook fan page that she shares with two other authors. On the page, someone asked about Madelyn and the answer was that she was spending time with family.
Jill Churchill, author of the Jane Jeffry series
I mentioned Jill in one of my earlier posts but I'm still coming up with nothing on her current status.
Beverly Connor has two series, one featuring a forensic archeologist and one a forensic anthropologist
It looks like Beverly Connor is now writing with her husband, Charles Connor. They published The Poplar Creek Murders in 2015, and Murder in Macon in 2013.
Diane Mott Davidson, author of the Goldy Bear Schulz catering series
Diane Mott Davidson has compiled the recipes from the series into one cookbook, Goldy's Kitchen Cookbook: Cooking, Writing, Family, Life. See this article from the Denver Post  and her cagey response to the question about the continuation of her series.
Jo Dereske, author of the series starring Miss Zukas, a librarian in Washington State
Jo Dereske ended the Miss Zukas series in 2011. I contacted her, asking about her writing plans. This is her response (February, 2016):
I've kept a bit of a low profile lately. It was bittersweet but the correct time to end the Miss Zukas series. I'm currently working on a stand-alone mystery, which I plan to finish this year.
Selma Eichler, creator of the Desiree Shapiro series
In a 2010 interview in The Examiner, Selma Eichler reported that she had stopped writing the series. She said nothing about future projects. The interview, available back in February, no longer exists.
Nancy Fairbanks, author of the Culinary Food Writer series
I could not find current information for this author. On July 31 I sent her an email that bounced.
Jerrilyn Farmer author of the Madeline Bean catering mysteries, set in Los Angeles
Jerrilyn Farmer used to teach creative writing at UCLA, but she's not on the current online schedule. I sent her a Facebook friend request a while back but she hasn't accepted. She posts on Facebook but not about writing. She has a really cute dog!
Elaine Flinn, her series features an antiques dealer in Carmel, California
Elaine Flinn passed away in 2008. Here is a lovely tribute to her.
Melissa Glazer, author of the Clay and Crime mysteries, set in Vermont
Melissa Glazer is a pseudonym for Tim Myers, a prolific writer of many series who assumes many pen names. I sense that he doesn't want to be contacted (probably too busy writing!). He has a web site, but this bibliography from Cozy-Mystery.com looks more complete.
Sparkle Hayter: Her main character is Robin Hudson, a NYC cable news reporter
See Sparkle's website.  I'm now following her on Twitter. This is her response to my inquiry about her writing status:
Dear Ms. King,
Write? Yes. Publish? I don't know. 🙂
Thanks for asking. Good luck with your books. They look great.
Sparkle
Sue Henry pens a couple of series set in Alaska
I sent an inquiry regarding Sue Henry to Rainy Retreat Books in Juneau (great store!). This is the response:
As far as I know, Sue Henry has not published anything since 2010.  There are some rumors that she has health problems, but I do not know if they are based on fact.  So glad you enjoyed your visit to the store. Hope we will see you again.
Toni Birdseye
Co-Owner
Rainy Retreat Books
Marne Davis Kellogg, creator of Kick Keswick, a retired master jewel thief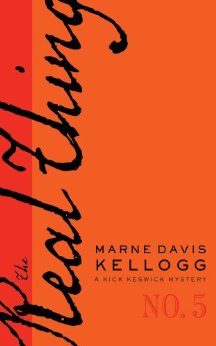 She last published The Real Thing as an ebook in 2013. She has a beautiful website and is on Facebook and Pinterest, but not active on either. I sent her an email requesting an update on her writing plans, but haven't heard back.
Barbara Lee
In the nineties, she wrote three books featuring Eve Elliott, a real estate agent in Maryland's Chesapeake Bay. I can't locate any information for her.
Karin McQuillan, author of the Jazz Jasper, African Wildlife mystery series
She published three volumes in the series in the nineties and a fourth years later in 2015.
Here's an interesting interview with Omnimystery News.
She also writes many political articles on American Thinker.
Marissa Piesman wrote the Nina Fischman mystery series in the nineties.
Here's an entertaining post on the series from the Clothes in Books blog.
On March 11, 2016, Marissa Piesman wrote a review in Jewish Currents.
Marissa Piesman is on LinkedIn and, as Assistant Attorney General at New York State Department of Law, her work phone number is available. I could send her a message via LinkedIn, asking if she intends to resume her series, or start a new one. But I'd have to upgrade to the premium edition of LinkedIn and I'd just as soon not do that. And I have no intention of contacting her at work. So, unless someone else cares to take the helm on this, we'll be satisfied with her body of work that I've added to my TBR list.
Sandra West Prowell, author of a PI series set in Billings, Montana
Sadly, Sandra West Prowell passed away on August 29, 2015. Here's her obit.
Dana Stabenow, author of the Alaska-based Kate Shugak series
I was asked if Dana Stabenow has stopped publishing her Kate Shugak books. I contacted her on July 10 and she assured me that she's working on #21 of the series. For further updates, see her blog.
Elizabeth Atwood Taylor
In the eighties and nineties this author wrote three novels with Maggie Elliott, a San Francisco-based filmmaker turned private investigator. I had no luck finding information on her.
Valerie Wolzien, author of a series featuring Susan Henshaw, a Connecticut homemaker
Valerie Wolzien responded to my request on her writing status. She is alive and well but no longer writing. She loved writing mysteries, was lucky enough to have enthusiastic readers, and an excellent publisher. But family issues intervened, writing could no longer be her top priority, and traveling to publicize the books was limited. So when her editor retired she decided to retire as well. Looking for a new publisher didn't appeal to her. But she's happy that she gets to read a lot now!
M.K. Wren Her sleuth is Conan Flagg, a former intelligence agent, who owns a bookstore in Oregon
I didn't find information on this author. My Oregon source fared no better, but will let me know if she hears anything.
Nina Wright created Whiskey Mattimoe, a widowed real estate broker in Michigan
I friended Nina Wright on Facebook. She's working on something "brand new."
Find bibliographies for the above authors on Stop You're Killing Me, a great resource for mystery lovers.
Posts from my "Missing Authors" series, in chronological order:
"Discovering a Lost Author: John J. Lamb"
"Whatever Happened to Gabrielle Kraft?"
"Whatever Happened to (Name an Author)?"
"In Memory of My Favorite Mystery Authors (And Maybe Yours)"
"Those Missing Authors: An Update"
Readers, if you have information on the status of an author included in these posts please leave a comment. And if you have a favorite author who has seemingly vanished and isn't included on one of the above posts, include the name(s) in the comment section and I'll see what I can find out.
Save
Save
Save
Save