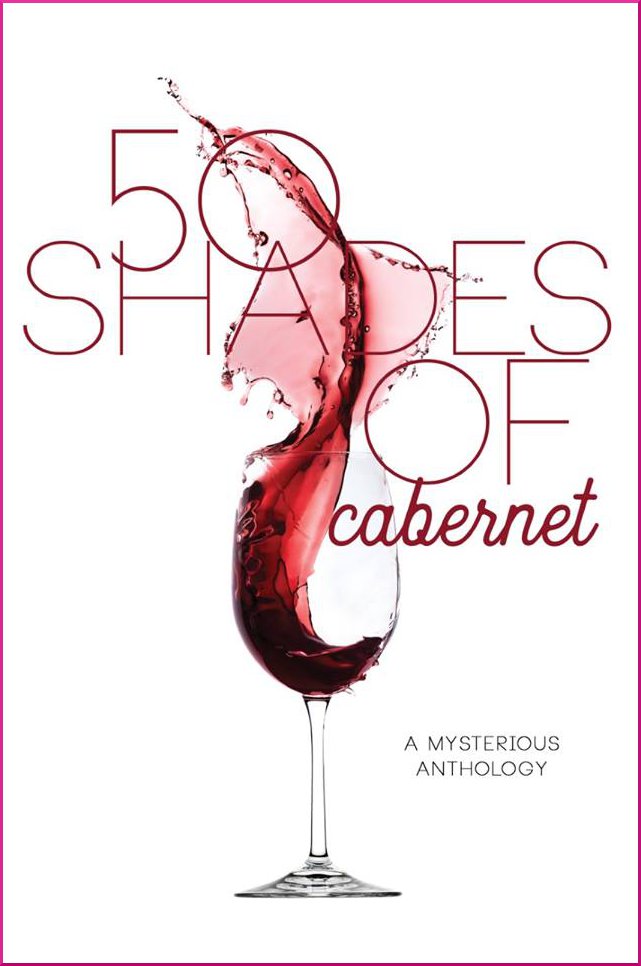 Cabernet is the star in 50 Shades of Cabernet, an anthology of wine-themed mysteries created by 18 authors. The stories range from light-hearted puzzles to darker, heavier tales of deceit and murder.
I don't drink Cabernet. I don't drink wine—or anything alcoholic. So why did I say "yes" when asked to contribute a story to the 50 shades anthology? Aren't I supposed to "write what I know?"
The requirements for story submission were few: "The only requirements are that your story includes a mystery of some sort (not necessarily a murder), and that there is at least one mention of Cabernet wine somewhere in the story."
I'm a mystery writer and have penned short stories. I could certainly mention the word Cabernet without sampling the beverage.
My friend Marcia took me on a tour of the extensive Cabernet section at Total Wine where I took pictures of various labels and accompanying descriptions. So now all I needed was a story!
I belong to the Greater Richmond, Virginia branch of the American Association of University Women (AAUW) and we host an annual wine-tasting fundraiser at a local church. I took inspiration from this event to turn out "Wine, Women, and Wrong." Here is a description of my contribution to this stellar anthology:
Tommy Bradshaw has two items on his bucket list: to solve a murder mystery and to marry Camille Pettit. Fat chance of either happening. Then, when Camille attends a wine-tasting fundraiser and the wine merchant is found in the parking lot, impaled by a hunting knife, Tommy gets his chance to play one of the Hardy Boys. In the process of finding the stabber, Tommy is besieged by women: the glamorous and sexy oenophile who's hell-bent on seducing him; and the cop who would love to woo him away from Camille. In addition, Tommy finds that detecting isn't as easy as it is in books.
Joining me in 50 Shades of Cabernet's are these 17 talented authors, all members of Sisters in Crime: Betsy Ashton, Lyn Brittan, Barb Goffman, Debbiann Holmes, Maria Hudgins, Teresa Inge, Jim Jackson, Kristin Kisska, Douglas Lutz, Nancy Naigle, Alan Orloff, Jayne Ormerod, Rosemary Shomaker, Jenny Sparks, Heather Weidner, Tina Whittle, and Ken Wingate.
Back to my teetotaling ways. Many famous people share this life choice, including Jim Carrey, Shania Twain, Rob Lowe, George W. Bush, Natalie Portman, Elisabeth Hasselbeck …
And Donald Trump.
Purchase your copy of 50 Shades of Cabernet here.
Visit the 50 Shades of Cabernet web site here.
50 Shades of Cabernet is on Facebook!
… and on Twitter!
Enjoy the stories. And please write a review.
Save
Save