I've been on an Australian kick.
In the past year I've read Bittersweet by the late Colleen McCullough  (I read The Thorn Birds decades ago); The Lake House by Kate Morton; and the wonderful mysteries of indy mystery authors Christina Larmer and Morgana Best.
And now I'm enjoying The Doctor Blake Mysteries, a TV series set in 1950s Victoria.
I never realized how spotty my knowledge was of Australian geography. Before Doctor Blake, I had heard of Victoria (I think), but I couldn't have told you anything about the place—was it a city, state, territory? I didn't know. My trusty atlas showed me that Victoria is a small state in the southeastern part of the continent.
Here's a map that I appropriated from Wikipedia. Victoria stands out in red: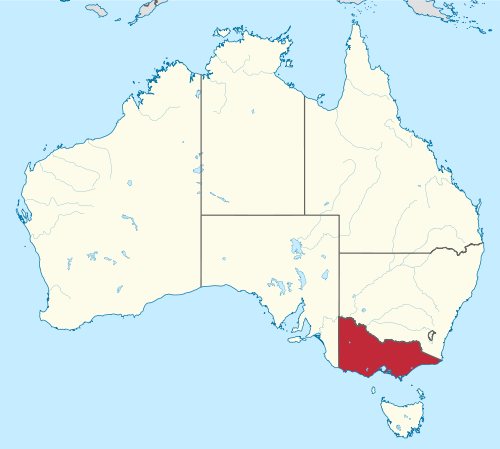 I found Ballarat, the city where Dr. Blake lives, practices medicine, and solves murders. I realized that I had often heard of Melbourne, the state capital. If pressed, I would have put it New South Wales.
Honestly, I took Geography in school. Really, I did. Of course, that was eons ago, but still. In my mind's eye I could place New South Wales, Sydney, and Canberra in their correct spots on a map—although I had NSW much larger than it in fact is, eclipsing Queensland. And I knew of Perth from the movie Shine and because I had a boss who came from there. But that was it.
So my Australian kick has been quite educational. And now I'm hankering to visit. Maybe I'll get to meet some of the great people I'm friends with on Facebook. Of course, there's the daunting idea of the air travel … but I know the day is coming when I'll arrive in the land Down Under.
Map in hand.
I always like to read up on my destination in fiction:
The Aussies wield a mighty pen. Here's a long, long list of Down Under novelists.
A list of Australian mystery authors from Stop! You're Killing Me.
Patricia Carlon. I read her suspenseful novel, Whispering Wall, years ago.
A couple of extras:
Everything about Victoria, and then some.
Sydney Chic Blog: I follow this guide to restaurants and lifestyle on Instagram.
Suggestions are welcome.
Save
Save
Save
Save
Save