Yikes! Me on TV?
That was my initial reaction when the supervising producer of Virginia This Morning emailed me, asking me to appear on the show. I was to talk about my latest mystery, Murder at the Moonshine Inn, and promote the upcoming Murder at the Library, a murder mystery theater event put on by the Clover Hill branch of the Chesterfield County Public Library and Sisters in Crime Central Virginia.
Now my husband had been encouraging me to get booked on the show for quite some time, but I had dragged my feet on that adventure. But to be asked was a different matter. I immediately replied "Yes!"
To say I was nervous was an understatement. What would I say? What if I blanked out? What would I wear? What about hair and makeup? I figured I could get my hair and makeup done at the studio. Thankfully, I asked about this. It turned out that I needed to arrive camera ready. Whew! I don't even want to think about showing up with a not camera ready face.
I queried friends who had appeared on the show. Their advice:
Make sure my elevator speech is polished
Wear something bright
Wear slacks
Foundation and blush should be two shades darker than normal
Don't look at the camera
Pretend that I'm having a conversation with a friend
My hair stylist gave me written instructions for achieving my best look. I visited Ulta and purchased "full coverage" foundation. I spent a week before the big day experimenting with hair and makeup. I decided on a bright teal top to brighten my usual black wardrobe.
Now, I had other concerns than about my appearance. I did follow the above advice and practiced the elevator speech for both of my books until I didn't stumble over a word. I tried to anticipate what I'd be asked. I viewed LynDee Walker's video from her appearance on the show.
The day arrived. I got out of bed at 5:30 am to attend to my image. I got to the studio way early and was escorted to the green room (peach, really). I chatted with a group of musicians who were promoting their upcoming benefit concert, Jazz4Justice. We discussed politics (always anxiety-reducing!).
I met Jessica Noll, one of Virginia This Morning's producers. When I asked her if my makeup was okay she assured me that it was—she especially liked my lipstick—but suggested that I add more blush. When I wondered if I should wear my glasses, she said that if I didn't need them to go without, as they could cause glare. Since I wasn't driving on the set, I left them behind.
Showtime! I'm sitting across from Cheryl Miller, a veteran interviewer. It was hard not to look at the camera, as it hovered in my peripheral vision. But I kept my eyes focused on Cheryl, who was as warm and engaging as she could be. As expected, we promoted the aforementioned Murder at the Library and I got to recite my elevator speech. Then Cheryl asked me about the Richmond Police Academy program that I participated in last spring. I hadn't expected that question so I didn't have a polished response, but I think I did okay by the RPD (It was a great program that I highly recommend and many communities offer it).
The interview was over in five quick minutes. I signed a copy of Murder at the Moonshine Inn for Cheryl and we chatted for a few minutes off-camera.
Back in the green/peach room, the musicians were very complimentary.
"So I can safely post it on social media?" I asked.
"Absolutely. Nothing embarrassing at all."
I did post the video and got very nice comments.
Would I do it all over again?
You bet.
Note to authors: I had quite a spike in sales that day and, less than 30 minutes after my appearance, I had a request to visit a local book group.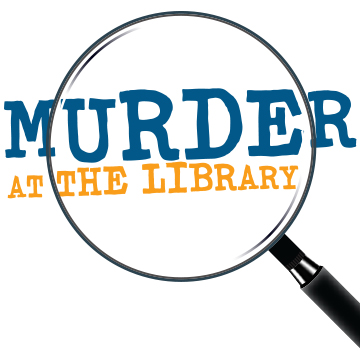 View my debut here.
Murder at the Library murder mystery theater event: details and tickets. Following the  event is a panel discussion, "The Many Hats of a Writer," and author signings.
For information on Virginia This Morning.
Save
Save