My long-awaited "Missing Author" series is back! Thank you readers, for wanting to know what happened to your favorite mystery authors who, for whatever reason, haven't published in a while.
Sometimes I'm lucky enough to make contact with a "missing" author. Often life circumstances put her or his writing on hold. Some are making a comeback with a new series. Sadly, I find that some have left us for the great beyond.
Read on for the latest updates.
Carol K. Carr, author of the series featuring India Black, a young madam in 1870s London
I e-mailed Penguin Random House, asking about the author's status; they haven't responded.
Shirley Damsgaard penned the Ophelia and Abby series
Shirley is active on Facebook. I sent her a message asking about her writing status, but I haven't heard back yet.
Patricia Harwin is the author of the Catherine Penny series, about an American who relocates to Far Wychwood, England
From this message board, I gather that Patricia Harwin had publishing issues and didn't publish after 2005.
From her Simon & Schuster page, I learned that she lived in Rockville, MD and she looks to be in her sixties or seventies.
Here's her obit from 2015. I think we can be sure it's for the same person, as she died at age 78 and lived in Rockville.
I'm sorry I don't have better news.
Marne Davis Kellogg, author of the Kick Keswick series.
I included Ms. Kellogg in my last Missing Author post and have since received this lovely note from her:
Dear Maggie,
Please forgive me for taking so long to respond to your note—it went missing. And thank you for your inquiry—what an interesting project.
The fact is, the last couple of years have been crazy—our business has been extremely busy, for which I am grateful, and then our dog died and then my Mother died and then I needed to redo her house and so on and so forth. Real life has gotten very in the way of my writing life.
However, I am about halfway through a wonderful new Kick book—THE HOUR OF CHARM. Because my business life is primary, it's difficult to predict when the manuscript will be finished but I hope by the end of the year which means that it should be out by this time next year. My last Kick book—THE REAL THING—came out in November 2013.
Thanks so much for taking the time to track me down, Maggie. Where do you live in Virginia? What else do you write?
All the best, Marne
Jeff Long, author of The Descent and Year Zero, among others.
I contacted Jeff Long via the web form on his site. To date, he hasn't responded. Simon & Schuster, his most recent publisher, has no current knowledge of him.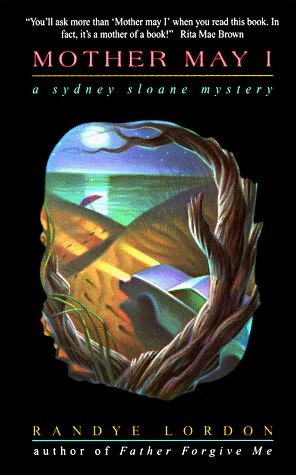 Randye Lordon, author of novels about family dynamics.
Years ago, Randye Lordon contributed to Women of Mystery: An Anthology. I contacted the editor, Katherine V. Forrest (I love her Kate Delafield series). She didn't have any information on Randye, but suggested that I find the name of her agent for Mother May I?
By some fluke I found an e-mail address for Randye (it wasn't on her website) and contacted her. She responded almost immediately:
Dear Maggie,
Thanks so much for your email.
Ah yes, it looks like I have been MIA but in the last few years life presented several challenges that I needed to address.  I have not stopped writing but I have taken a break from the Sydney Sloane series.  I may very well return to it, but right now I am completing the first in a new series about a Hamptons concierge who discoveries that life really can be murder out here.
But tell me about yourself and your recurring series – where can I find it?
All the best,
Randye
Marianne Macdonald, who wrote the Dido Hoare series about a London bookseller
I sent the author an e-mail at the address on her website, but I haven't heard from her. I also e-mailed Severn House Publishers; they responded quickly, saying they had no information on her.
Ann McMillan, author of a Civil War series set in Virginia.
According to a mutual acquaintance, Ms. McMillan is spending time with family and has discontinued the Civil War series. You can find her on Facebook but she hasn't posted in a while. Several years ago, I heard her speak at a writing workshop and she was quite impressive. I hope she picks up her pen again soon!
Cathy Pickens, author of the Avery Andrews series, about a lawyer practicing in South Carolina
Cathy Pickens explains her "absence" on her site.
Deborah Sharp,  author of the Mace Bauer mystery series.
Deborah Sharp is active on Facebook, and I'll contact her at a later date. Read this November 30, 2016 interview with author R. V. Reyes.
CJ Songer, author of two novels with Meg Gillis, a security officer in Los Angeles.
I can't find anything recent on CJ Songer, not even a way to contact her. Here's a link to a 2005 article.
Find bibliographies for the above authors on Stop You're Killing Me, a great resource for mystery lovers.
Posts from my "Missing Authors" series, in chronological order:
"Discovering a Lost Author: John J. Lamb"
"Whatever Happened to Gabrielle Kraft?"
"Whatever Happened to (Name an Author)?"
"In Memory of My Favorite Mystery Authors (And Maybe Yours)"
"Those Missing Authors: An Update"
Readers, if you have information on the status of an author included in these posts please leave a comment. And if you have a favorite author who has seemingly vanished and isn't included on one of the above posts, include the name(s) in the comments section and I'll see what I can find out. It may take me some time but I will get back to you.
For various reasons, I may not feel comfortable contacting an author but I'll provide as much information as I can find online. For example, I hesitated to contact one of the above authors because her mother recently passed away and I figured that could account for the publishing lapse.
Some of these authors are new to me and might be for other readers as well. So the "Missing Authors" series is a boon to our runaway TBR lists!
Enjoy!