My long-awaited "Missing Author" series is back! Since I last updated in January, I've had a number of requests. In March, I guest posted for a week on Sue Ann Jaffarian's Fan Club (great experience!). Many of my requests came from one of those posts.
Without further ado, read on for the latest updates.
Annette Blair, author of the Vintage Magic mysteries, set in Connecticut
Here's Annette's response to my inquiry on her status:
Maggie, I will be writing more mysteries, but I have to wait to get the rights back from Random House. I'm working on new Rogues right now, Rogues 5 & 6. And I should have the rights back to the witches this spring. I went missing because of four years worth of surgeries, months of rehab, horrible side effects and of course depression with all that. But I am back to writing again. Thanks for letting the readers know.
Joyce Christmas, author of the Betty Trenka and the Lady Margaret Priam series.
Joyce Christmas passed away in 2012. Read her obit.
Earlene Fowler, author of the Benni Harper quilting mysteries, set on California's central coast.
On February 15, 2017 she responded to an inquiry about a new book on her Facebook page: "Not writing currently, personal and professional reasons. So sorry."
Graham Landrum, author of the The Social Club Mysteries in Borderville, Virginia.
Graham Landrum died in 1995. Here is an article about his last book, The Garden Club Mystery, published posthumously by his son.
I must read The Garden Club Mystery, as I once served as Administrator for the Garden Club of Virginia.
Lia Matera, author of the Willa Jansson mysteries, set in San Francisco
Read Lia's response to my inquiry:
Hi, Maggie. Thanks for asking! I do hope to finish the manuscripts I've been working on soon… or soonish. (Or maybe, at this rate, I should say eventually.) But then the books will have to find homes, and if they do, they'll be in the pipeline for a year or two. So for now, I'm answering to Lia Who? and wasting time on facebook & twitter when I should be working.
Stephanie Matteson, author of the Charlotte Graham mysteries
All I can find are indications that she's been involved in the corporate world for the past several years, especially in the solar energy field. She wrote her Charlotte Graham series in the 1990s.
Deborah Sharp, author of the Mace Bauer Mysteries, set in Florida
Read Deborah's response to my inquiry:
Hi, there … I'm so flattered that readers still ask about me! I love the idea of your blog post tracking down MIA authors. The "Whatever Happened To . . . ?" stories were always favorites of mine to write back in my journalism days. As for me, I never planned that my fifth book, Mama Gets Trashed, would be the last when it came out in 2013. In fact, I had completed a 35-page outline for Book 6, had a title — Mama Gets Schooled — and a commitment from my publisher, Midnight Ink. Unfortunately, life intervened. Health issues, care-taking for my elderly mother, and family responsibilities just seemed to sap the "funny" right out of me. When I sat down to write the book, I found I just didn't have the heart to do it. I've been surprised by how much I miss my characters (not to mention the lovely readers!) My mother — the real mama — recently passed away at 102. I'm not sure if I will return to writing, but if I do, it would likely be to my series, because I love those folks in fictional Himmarshee, Fla. Currently, though, I'm enjoying the freedom I have to travel, read, and do not much of anything, frankly. I kind of like being a lazybones!
S.T. Haymon, author of a series featuring Ben Jurnet, a detective inspector, in Norfolk, England
Sylvia Theresa Haymon passed away in 1995.
Here's information a reader sent for author Marianne Macdonald and CJ Songer, featured in my January post:
Marianne lives in London, but is in poor health. Her sons were caring for her but have not heard from her for over a year and do not have contact with the sons.

I forwarded your address to CJ Songer.
Note: So far, CJ Songer has not contacted me.
I receive many requests for authors I've posted about before. Click on the following names to see the earlier post:
Stephen Greenleaf He has his backlist on Kindle now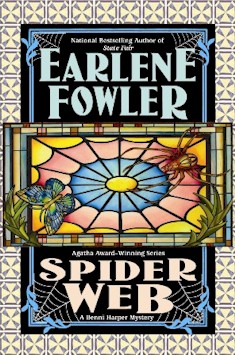 Thank you readers, for wanting to know what happened to your favorite mystery authors who, for whatever reason, haven't published in a while.
If you have information on the status of an author included in these posts please leave a comment. And if you have a favorite author who hasn't written in some time and isn't included on one of the above posts, include the name(s) in the comments section and I'll see what I can find out. It may take me some time but I will get back to you, either personally or in an upcoming blog post.
One thing's for sure—there are a lot of missing authors out there!
Some are easy to find, while some are not. Fortunately, many still maintain websites and are active on social media so I can contact them. Often life circumstances put her or his writing on hold. Some are making a comeback with a new series. Sadly, I find that some have left us for the great beyond. Others have seemingly vanished.
I have more authors to research. I'm waiting on responses to a number of inquiries—Earl Emerson, Jane Haddam, Beverly Taylor Herald, M.D. Lake, Barbara Taylor McCafferty, Beth Sherman, Christine Wenger, and more. I may have to reach out to publishers. So look for an update this summer, earlier than usual.
In the meantime, I'll have to check out Madelyn Alt's series—she's my #1 request.
Find bibliographies for the above authors on Stop You're Killing Me, a great resource for mystery lovers.
Posts from my "Missing Authors" series, in chronological order:
"Discovering a Lost Author: John J. Lamb"
"Whatever Happened to Gabrielle Kraft?"
"Whatever Happened to (Name an Author)?"
"In Memory of My Favorite Mystery Authors (And Maybe Yours)"
"Those Missing Authors: An Update"
Save
Save
Save
Save
Save
Save