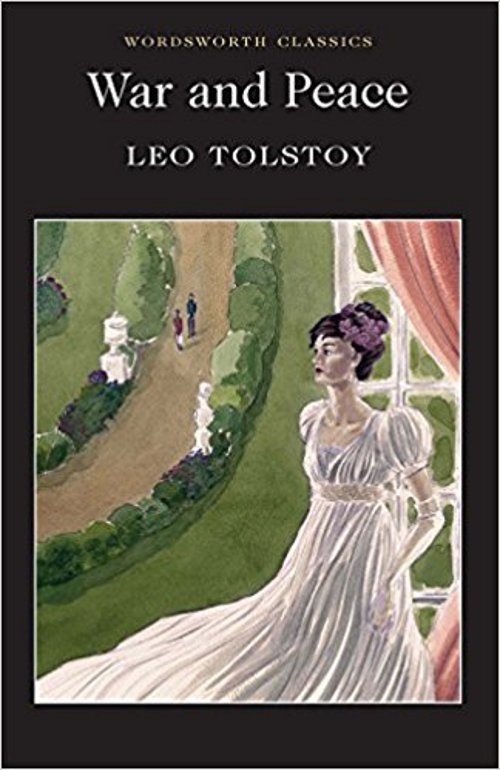 War and Peace is a masterpiece. It's Leo Tolstoy's epic, epic account of the history of the French invasion of Russia and the impact of the Napoleonic era on Russian society as seen through the lens of five Russian aristocratic families. It clocks in at 587,287 words.
Why I read it
Call it a personal challenge, my bucket list book. Over the past year, I've received a series of nudges from the good reading angel who sits on my shoulder:
Author Gayle Bartos-Pool wrote a thoughtful post, prompted by a TV news story about teachers who no longer wanted to teach the classics. She makes a good case for keeping the classics alive and offers examples of the authors we would do well to discover, or re-discover—Alexandre Dumas, Mark Twain, Ray Bradbury. E. Phillips Oppenheim. She doesn't specifically mention Leo Tolstoy or War and Peace, but that's the title that buzzed through my mind as I read her post.
"War and Peace is all about Trump. Who Knew?" Naturally the title of Fred Hiatt's article in the Washington Post intrigued me. Now I won't comment on our leader but, love him or hate him, understanding him could only be helpful. Mr. Hiatt states that War and Peace is not only about Donald Trump, but that it can guide us in responding to his presidency. Interesting reading.
About a year ago my sister told me she was reading it. Sibling rivalry, perhaps?
I remembered how I loved Tolstoy's Anna Karenina.
It's a classic.
Why I didn't read it sooner
It's, well, long. I've read other long tomes—The Fountainhead, Middlemarch, the aforementioned Anna Karenina, The Brothers Karamazov, Gone with the Wind, and Atlas Shrugged—but that was before I took up the pen and turned out my own much shorter tomes, giving me less time to read. The idea of devoting two-plus months to one book didn't appeal.
I did try to read War and Peace back in the seventies but quickly got bogged down by the long Russian names that all seemed with start with K.
I would have to abandon my runaway TBR list.
Still, the good reading angel persisted …
It was time.
I started War and Peace on Thanksgiving Day (Nov. 23, 2017) and read THE END on January 29, 2018. Okay, I'm a slow reader, plus I took a break a couple of times to review a book as a favor for an author friend.
What do I think of it?
I won't offer a literary critique. That's been done many times.
I will say that it's magnificent. Tolstoy uses his characters to explore issues of life and death, seeking higher meaning and purpose in both. Some characters are likable, some are not, but they're all well-developed and compelling. Unlike with my first attempt in the seventies, I didn't have a hard time keeping track of them. They are not consistently named—a character may be addressed by his/her first name, nickname, various surnames, or title. And my seventies memory tricked me about the names starting with K. I didn't find that pattern this time around.
The story of the French invasion of Russia and its effect on the country is fascinating. The aristocratic families, with their drama, intrigue, and romance captivated me.
It's easy to read. The chapters aren't long, but there are plenty of them. Interestingly, despite the title, there is little peace.
The downside: I guess I've mentioned that it's looooonnng. The plot dragged at times. Tolstoy now and again abandons the characters and lapses into tedious ramblings on philosophy or military strategy. I'd rather read a story from the point of view of the characters. The man really needed a good editor.
As for the president, do I understand him better? Let me think about that one.
As I approached the last pages, I got a catalog in the mail from the Virginia Museum of Fine Arts and learned of an upcoming exhibit: Napoleon: Power and Splendor. What timing! I'll be there. June 9-September 3.
A while back I wondered how War and Peace measured up with other long books. The Blah Story (interesting title) by Nigel Tomm is 3,277,227 words and Proust's Remembrance of Things Past is 1.5 million words. And no, I have no plans to tackle either. With a word count of only 587,287, War and Peace is a mere novella.
Do I recommend that you read War and Peace?
Definitely. Despite my harping on the length, I heartily recommend this classic and sweeping saga of history and romance. On February 2, the groundhog predicted six more weeks of winter. Perfect time to get started. If you're in a warmer climate, camp out under a tree with the beverage of your choice.
And what am I reading now? Short stories. Really. And there's that TBR list.