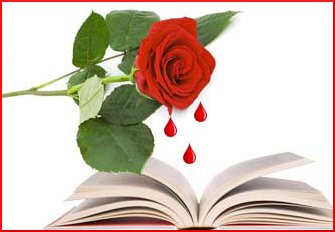 "A rose by any other name would smell as sweet" – from Shakespeare's Romeo and Juliet, 1600
People ask me how I came up with my characters' names in Murder at the Book Group. The silver screen contributed a number of them. One day I was watching either Little Shop on the Corner (1940) or The Philadelphia Story (1940) and saw the name Wade Rubottom in the credits. He was an associate art director for many films in the thirties and forties. I thought, "What a great name for a character" and I christened one of the book group members Sarah Rubottom.
Edward Dmytryk was a director for many World-War II-era noir films. I might have seen his name in the credits of Murder, My Sweet (1944). His name so intrigued me that I gave it to Carlene Arness's friend Georgia.
Kat Berenger's full name is Katrina Alexandra Berenger. Katrina Alexandra was the name of a very interesting teacher I had in high school. Kat is a logical diminutive of Katrina and also reflects the character's love of leopards. I like the name Berenger and I like the actor Tom Berenger—so that's how I cobbled together the name Kat Berenger.
Carlene Arness was originally Deanna Arness and I don't know what prompted me to change her name to Sharon Arness. I do know how she went from Sharon to Carlene—I went to work for a woman named Sharon and I figured it was a bad idea for my victim and my boss to share a name. Even when I left that job I stuck to the name Carlene. As for Arness, likely I was thinking of Gunsmoke. James Arness starred in the popular western that my father watched religiously on Saturday nights from 1955-1975.
The other names pretty much just occurred to me. Perhaps I heard a first name or read a last name and put them together. The names need to sound right and need to suit the character. I picked Hazel Rose for my main character simply because I liked it. My other characters are Annabelle Mitchell, Helen Adams, Art Woods, Linda Miller, Lucy Hooper, Vince Castelli, among others.
Speaking of Annabelle Mitchell: Annabelle is a book group member and a bestselling mystery writer. Her fictional homicide detective is Gloria Shifflett, who operates out of Charlottesville, Virginia. I lived in Charlottesville for several years and noticed that the area teemed with Shiffletts. Regionally, the name is on a par with Smith and Jones and the spelling varies, depending on how many fs and ts are used. Apparently they settled in the Blue Ridge Mountains and were very … well, fertile. Their family tree must be something to behold. It seemed only fitting to have a Charlottesville character with the name. Here is an interesting article on the Shifflett name.
What I won't reveal is how I use these names (and others) to confuse and mislead. 😉
Readers, can you think of examples of how writers have used names that lead you astray?
Happy reading!