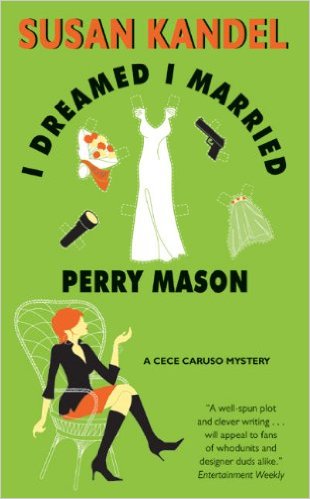 In January I included mystery author Susan Kandel in my ongoing series on "Missing Authors." Susan wrote a series featuring Cece Caruso, a divorced ex-beauty queen from New Jersey who reinvented herself as a biographer of dead mystery writers and a vintage fashionista in Southern California. Susan published her most recent Cece adventure, Dial H for Hitchcock, in 2009. As I hadn't heard anything of her since, she ended up on my blog as a "missing author."
Diane Vallere, who also pens fashion-oriented mysteries, read my post and wrote that she'd been in touch with Susan, who was still writing and working on a new series.
Great news!
Recently, I had more great news: an e-mail from Susan to her mailing list subscribers, thanking us for our patience and loyalty. She included a description of the first book in her new series featuring Dreama Black and gave me permission to share it here:
The protagonist, Dreama Black, is a 28-year old Jane Birkin-lookalike who makes a living taking people on custom-designed tours of her hometown of Los Angeles — old movie buffs who want a film noir tour (this is the first book in the series); teenage Goths who want to see B-movie sites, cemeteries and taxidermy shops: yoga mommies interested in SoCal's esoteric and spiritual history (Dreama takes them from Aimee Semple McPherson's church to the site of the defunct Krotona colony to the Scientology Celebrity Center to the Integration in the high desert); foodies; art and architecture aficionados; etc. In each book, of course, there is a mystery Dreama must solve. And the takeaway—and my favorite part—is that at the back of each book is the actual, fully annotated tour (locations, descriptions, commentary) that Dreama has cooked up.
One of the things that makes Dreama interesting is her back story: she is a third generation rock n'roll groupie—or "muse," as the women in her family like to put it. Her grandmother, who never met a top hat or gossamer shawl she didn't like, spent the sixties sleeping her way up and down Laurel Canyon, and continues to grumble about how Stevie Nicks stole her look from her. Dreama's mother, blessed with naturally thick tresses and a way with mousse, was a consort to many of the pseudo-androgynous alpha males of American hair metal. As for Dreama, against her best intentions she fell in love with a rock and roller who broke her heart, but not before writing an annoyingly catchy song about her, "Dreama Little Dreama," which went gold in seven days, and has made her almost famous forever.
Doesn't this sound like a great series? I love stories set in Los Angeles, as I lived there for many years. Film noir, rock 'n' roll, Laurel Canyon—it makes me want to hop on the next plane bound for LAX and go on one of Dreama's tours.
Susan will keep us posted on where and when we can read the first Dreama Black mystery. In the meantime, check out her Cece Caruso series.
For more on Susan Kandel, click here.
Posts from my "Missing Authors" series, in chronological order:
"Discovering a Lost Author: John J. Lamb"
"Whatever Happened to Gabrielle Kraft?"
"Whatever Happened to (Name an Author)?"
"In Memory of My Favorite Mystery Authors (And Maybe Yours)"
"Those Missing Authors: An Update"
Let me know if you've wondered where on earth your favorite author could be and I'll see what I can find out.