Sometimes southern charm is … DEADLY.
I'm thrilled to announce the release of DEADLY SOUTHERN CHARM: A LETHAL LADIES MYSTERY ANTHOLOGY. This outstanding collection features original mysteries set in southern locales with female sleuths.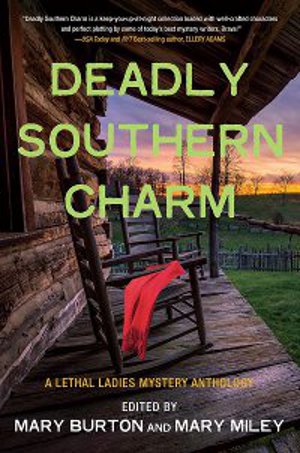 The authors are members of Sisters in Crime Central Virginia. Today several of them agreed to be interviewed here.
The following is a complete list of the  authors who contributed stories:
Frances Aylor, CFA combines her investing experience and love of travel in her financial thrillers. MONEY GRAB is the first in the series. www.francesaylor.com
Mollie Cox Bryan is the author of cookbooks, articles, essays, poetry, and fiction. An Agatha Award nominee, she lives in Central Virginia. www.molliecoxbryan.com
Lynn Cahoon is the NYT and USA Today author of the best-selling Tourist Trap, Cat Latimer and Farm-to-Fork mystery series. www.lynncahoon.com
J.A. Chalkley is a native Virginian. She is a writer, retired public safety communications officer, and a member of Sisters in Crime.
Stacie Giles, after a career as a political scientist, linguist, and CIA analyst, is now writing historical cozies with a twist. Her first short story is in honor of her grandfather who was a policeman in Memphis in the 1920s.
Barb Goffman has won the Agatha, Macavity, and Silver Falchion awards for her short stories, and is a twenty-three-time finalist for US crime-writing awards.www.Barbgoffman.com
Libby Hall is a communication analyst with a consulting firm in Richmond, Virginia. She is also a blogger, freelance writer, wife, and mother of two.  
Bradley Harper is a retired Army pathologist. Library Journal named his debut novel, A KNIFE IN THE FOG, Debut of the Month for October 2018, and is a finalist for the 2019 Edgar Award for Best First Novel by an American author. www.bharperauthor.com
Sherry Harris is the Agatha Award-nominated author of the Sarah Winston Garage Sale mystery series and is the president of Sisters in Crime.www.sherryharrisauthor.com 
Maggie King penned the Hazel Rose Book Group mysteries. Her short stories appear in the VIRGINIA IS FOR MYSTERIES and 50 SHADES OF CABERNET anthologies. "Keep Your Friends Close" appears in DEADLY SOUTHERN CHARM.  www.maggieking.com
Kristin Kisska is a member of International Thriller Writers and Sisters in Crime, and programs chair of the Sisters in Crime Central Virginia chapter. www.kristinkisska.com
Samantha McGraw has a love of mysteries and afternoon tea. She lives in Richmond with her husband and blogs at Tea Cottage Mysteries.www.samanthamcgraw.com 
K.L. Murphy is a freelance writer and author of the Detective Cancini Mysteries. She lives in Richmond, Virginia, with her husband, four children, and two dogs.www.Kellielarsenmurphy.com 
Genilee Swope Parente has written the The Fate Series (a romantic mystery series) with her mother, F. Sharon Swope. The two also have several collections of short stories. www.swopeparente.com
Deb Rolfe primarily writes mystery novels. This is her first published short story. She and her husband enjoy life in the Shenandoah Valley of Virginia. 
Ronald Sterling is the author of six books and draws upon his colorful and varied life experience as a U.S. Airman, saloonkeeper, private detective, realtor, and New Jersey mayor.
S.E. Warwick earned a bachelor's degree in American Studies in the last century. Ever since, she has been trying to decipher the American enigma.
Heather Weidner is the author of the Delanie Fitzgerald Mysteries. She has short stories in the VIRGINIA IS FOR MYSTERIES series, 50 SHADES OF CABERNET and TO FETCH A THIEF. She lives in Central Virginia with her husband and Jack Russell terriers. www.heatherweidner.com
Editors 
Mary Burton is a New York Times, USA Today and Kindle best-selling author. She is currently working on her latest suspense novel. www.maryburton.com
Mary Miley is a historian and writer with 14 nonfiction books and 5 mystery novels to her credit. www.marymileytheobald.com
◊ ◊ ◊
Here's my interview with DEADLY SOUTHERN CHARM authors:
Maggie: How did you pick your setting and what is unique about it?
Mollie: "Mourning Glory" is set in the fictional Victoria Town, Virginia. It's a historical town that has taken advantage of their history and built a little tourist haven for Victoriana fans. My main character Viv comes to town to help her aunt with her B&B, but also takes a part-time job in "Mourning Arts," a store full of mourning gear, like mourning jewelry and black crepe. 
Heather: My story, "Art Attack" is set in an art gallery in downtown Richmond, Virginia. In a former life, the building was an old warehouse. I am a Virginia native, and my stories and novels are set in the Commonwealth.
Lynn: "Cayce's Treasures" is set in the French Quarter of New Orleans. The first time I visited the area I felt a pull to the shops, the people.
Genilee: "Who Killed Billy Joe" is set in New Iberia, Louisiana. I lived in nearby Lafayette for three years and have always been fascinated by the Cajun and Creole cultures. I picked New Iberia because I wanted a small town setting close to a larger metropolitan area (New Orleans). I am a small town gal myself and love the life.
Frances: "The Girl in the Airport" is set in the Atlanta airport. Robbie, my main character, is heading to England for the summer to escape a broken college romance. I've been in this airport many times. It's fun to watch all the other passengers and imagine what secrets they are hiding. 
Kristin: "Unbridled" is set in an equestrian center in Low Country, South Carolina. I grew up taking horseback riding lessons (English saddle) and competing in shows. Though I never owned my own horse (never say never), I've always wanted to write a story set in a stable.
J.A.: "Keepsakes" is set in Dinwiddie County, Virginia and revolves around a forty-year-old murder that occurred on the banks of Lake Chesdin. I grew up in the area and find that such places hold many untold stories and unsolved mysteries.
Maggie: Can you share something about your main character that readers wouldn't know?
Mollie: Viv is in her 20s and trying to find her way as a game designer. Victoria Town is just a stopover for her. She plans to move on to bigger things, like designing her own computer games. But she's very close to her aging aunt who owns the B&B and loves helping her out.
Heather: My character, Jillian Holmes, is an assistant at an art gallery in downtown Richmond, and she aspires one day to manage a gallery of her own. But right now, she's at the beck and call of the current gallery manager, the narcissistic Harvey Owens.
Lynn: Cayce is part of a grifter family who has ruled New Orleans' fortune telling profession for years. She's broken out of the family business and got a degree in design and art – mostly antiques. When she receives her inheritance, she moves home to buy an antique dealership on Royal Street. The story (and future series) is a spinoff of my Tourist Trap series. Cayce's brother is Esmeralda's (from Tourist Trap) first love.
Genilee: Chief of Police Clareese Guidry is not your typical police officer. She has returned to her small town after cutting her teeth on the New Orleans police force and fought her way to the top of the ladder. She's tiny but formidable and well-respected among her colleagues. I loved her so much, I've made her a part of an upcoming mystery series.
Frances: "The Girl in the Airport" is a prequel to my financial thriller Money Grab. In the story, Robbie is a college student struggling with an unfaithful boyfriend who is dating her roommate. These same three characters reappear as adults in Money Grab, where Robbie is a wife, mother and successful financial advisor.
Kristin: Courtney lives, works, and breathes to keep her horse, Baymont Blues, in oats. Even though her bestie Gina is training with her to compete in the upcoming spring riding show season, Courtney has no intention of losing.
J.A.: Lynn wants to make it big. She wants to see justice for the victim, but she's also hoping that solving the mystery will open the door to big opportunities.
Maggie: Tell us your favorite authors and/or influences.
Mollie: Toni Morrison is my all-time favorite. But I also love Louise Penny and J.D. Robb. As far as influences, I think Sue Monk Kidd was a huge influence—The Secret Life of Bees was a book that shaped me as a writer. After reading that book, I knew I wanted to write books about the power of women, friendship, family, and community. Mine just happen to involve murder.
Heather: My favorite authors are Agatha Christie, F. Scott Fitzgerald, Ernest Hemingway, Lee Child, Steve Berry, and John Grisham. I have always loved mysteries since Scooby Doo and Nancy Drew. I enjoy history and biography too, but I always return to mysteries and thrillers.
Lynn: I loved Scooby and the gang! I started reading series mysteries when I was in sixth grade and found a lovely place to hide out in the library. Maggie Sefton was my first taste of cozies. And I love a good paranormal twist especially if the magic is just part of the world. Favorite authors include Stephen King (especially when he does fantasy and other worlds), Robyn Carr for her Thunder Point series, Richard Bach for Illusions. Deborah Harkness for her All Souls world. Currently I'm obsessed with Louise Penny and Neil Gaiman (American Gods was amazing.) And I'm reading The Magicians after falling in love with the TV show.
Genilee: Although I usually say Mary Higgins Clark because she has an uncanny ability to throw readers off base and then reel them back in, I don't like all of her books. I always enjoy reading the J.D. Robb series (Nora Roberts) because I love the strong female character and I think Nora Roberts writes very well. But again, I don't like all of her books because I don't like straight romance. I like anyone who writes well and doesn't stumble on his or her own language.
One of my biggest pleasures is just finding someone new to read in the mystery genre, which is why being part of this anthology is so rewarding.
Frances: Daphne du Maurier's Rebecca was one of my favorite books in high school. I loved the tension of a woman struggling to establish herself in her marriage while constantly being undercut by everyone's memories of her husband's dead wife. Tana French writes psychological thrillers with evocative descriptions that pull the reader into the story. I've read her first book, In the Woods, three times.
Kristin: The book that inspired me to start writing was Dan Brown's The Lost Symbol, which was set in Washington D.C. Since I grew up near there, I could picture every scene he described. I decided to try writing a story set at my alma mater. From there, authors Mary Kubica and, of course, Agatha Christie have been major influences in my story.
J.A.: I love the dialogue in Elmore Leonard's books. He does an amazing job of making characters sound real. He is an expert at dialect, and a good example of less is more. Charlaine Harris is great at delivering backstory with just a line or two. Agatha Christie was the first mystery writer I remind reading; Then There Where None is still one of my favorite books. I'm also a big fan of Rod Serling and Alfred Hitchcock.
Social Media Links 
Facebook: Lethal Ladies Write
Twitter: Lethal Ladies Write 
Website: Sisters in Crime Central Virginia Anthologies 
DEADLY SOUTHERN CHARM Buy Links
Praise for DEADLY SOUTHERN CHARM
DEADLY SOUTHERN CHARM is a keep-you-up-at-night collection loaded with well-crafted characters and perfect plotting by some of today's best mystery writers. Brava!
USA Today and NYT Best-selling author, Ellery Adams 
Deliciously devious and absolutely delightful, these marvelous stories will keep you captivated! Sweeter than sweet tea on the surface, but with smartly sinister secrets only a true southern writer can provide. What a joy to read!
Hank Phillippi Ryan best-selling Agatha and Mary Higgins Clark Awards winner
This collection of short crime fiction charms even as the stories immerse you in murder, revenge, and deadly deeds. Set all over the south, from Virginia to North and South Carolina, in Atlanta, Memphis, and New Orleans, the stories by eighteen authors engage and entertain with rich imagery and dialog from the region – and nefarious plots, too. Pour a glass of sweet tea and settle in on the porch swing for a fabulous read.
Edith Maxwell, Agatha and Macavity Awards nominee
This can't-put-it-down collection of mystery short stories is flavored with the oft-eerie ambiance of the South, where the most genteel manners may hide a dark and murderous intent. Enjoy DEADLY SOUTHERN CHARM with a Mint Julep in hand – a strong one.
Ellen Byron, USA Today best-selling author, Agatha and Daphne Awards nominee and Lefty winner